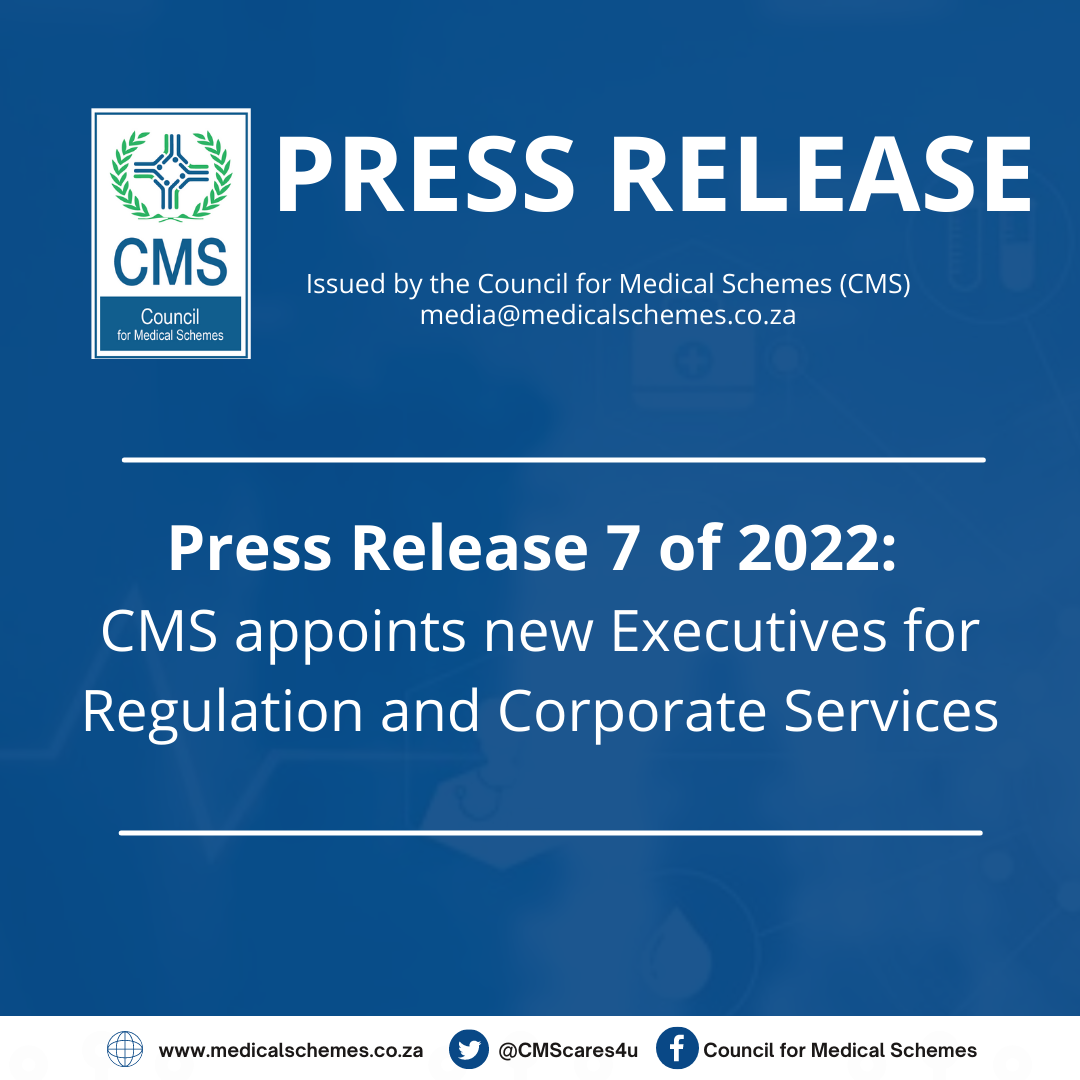 Press Release 7 of 2022: CMS appoints new Executives for Regulation and Corporate Services
The Council for Medical Schemes (CMS) is proud to announce the appointments of two new Executives, Mr Mfana Maswanganyi as the Executive: Regulation in the Regulation Division, and Mr Zongezile Baloyi as Executive: Corporate Services in the Corporate Services Division.
"These appointments complement CMS' new micro and macro-structure and operating model that seeks to improve the regulatory effectiveness and efficiency of the organisation," said Chief Executive and Registrar, Dr Sipho Kabane.
Mr Maswanganyi heads the new Regulation Division that integrates the regulatory units within the CMS, namely Compliance and Investigations, Financial Supervision, Benefits Management and Accreditation. He is not new to the CMS. Prior to this appointment, he was a Senior Investigator in the Compliance and Investigations unit at the CMS and alternately acted as General Manager: Compliance and Investigations.
He has held key roles in organisations such as Sandile Beauchamp Attorneys, the Home Affairs and Economic Development and Planning departments, the Special Investigating Unit (SIU), the Competition Commission, and the National Regulator for Compulsory Specifications.
Mr Maswanganyi holds an LLM in Constitutional and Administrative Law, a Master of Laws degree in International Law, Postgraduate Diplomas in Drafting and Interpretation of Contracts, Corporate Law and Compliance Management. He boasts certificates in European Competition Law, Competition Law, Prevention and Detection of Procurement, and attended an Advanced Management Development Programme. He is also a certified Ethics Officer and an admitted attorney of the High Court of South Africa.
On the other hand, Mr Baloyi leads the new Corporate Services Division, which clusters the support units within the CMS, namely Communications, Marketing and Stakeholder Relations, Human Resources, Legal  Services and Facilities.
Mr Baloyi is a seasoned professional who was previously with the Office of the Chief Justice, firstly as Chief Director of Corporate Services, then as Chief Director of Judicial Education. His career spans over decades of experience in Human Resources, Corporate Services and Management.
Mr Baloyi started as a National Organiser at the National Council of Trade Unions before joining the Department of Labour as Regional Manager. He went on to become Divisional Human Resources Manager at the Agricultural Research Council and later Chief Director of Corporate Services at the National Department of Transport. He also served as Chief Executive Officer at the South African Safety and Security Sector Education and Training Authority and Managing Member for Alloy Divine Management Consultants.
Mr Baloyi holds a Bachelor of Administration Honours degree in Industrial Psychology, a Master of Commerce in Industrial Psychology/Human Resources, a Diploma in Gender Equity, Employment Promotion and Poverty Alleviation, and a Strategic Leadership Development Programme certificate.
The CMS is regulating an industry recovering from the COVID-19 pandemic, and its strategic path calls for improved operational efficacy through the redesign of people, processes and technology.
"One of our first tasks was to ensure that the organisation is well capacitated with strong leadership to enable efficient delivery in the new operating model, and I am pleased to have Messrs Maswanganyi and Baloyi on board as we move the organisation to be future fit," concluded Dr Kabane.
/Ends/
Media enquiries:
Ms Mmatsie Mpshane
Acting Senior Manager: Communications, Marketing and Stakeholder Relations
071 371 5667
Download the Press Release here.
Notes for Editors: Download pictures here.
Was this post helpful?
Let us know if you liked the post and give us your opinion on how we can improve.