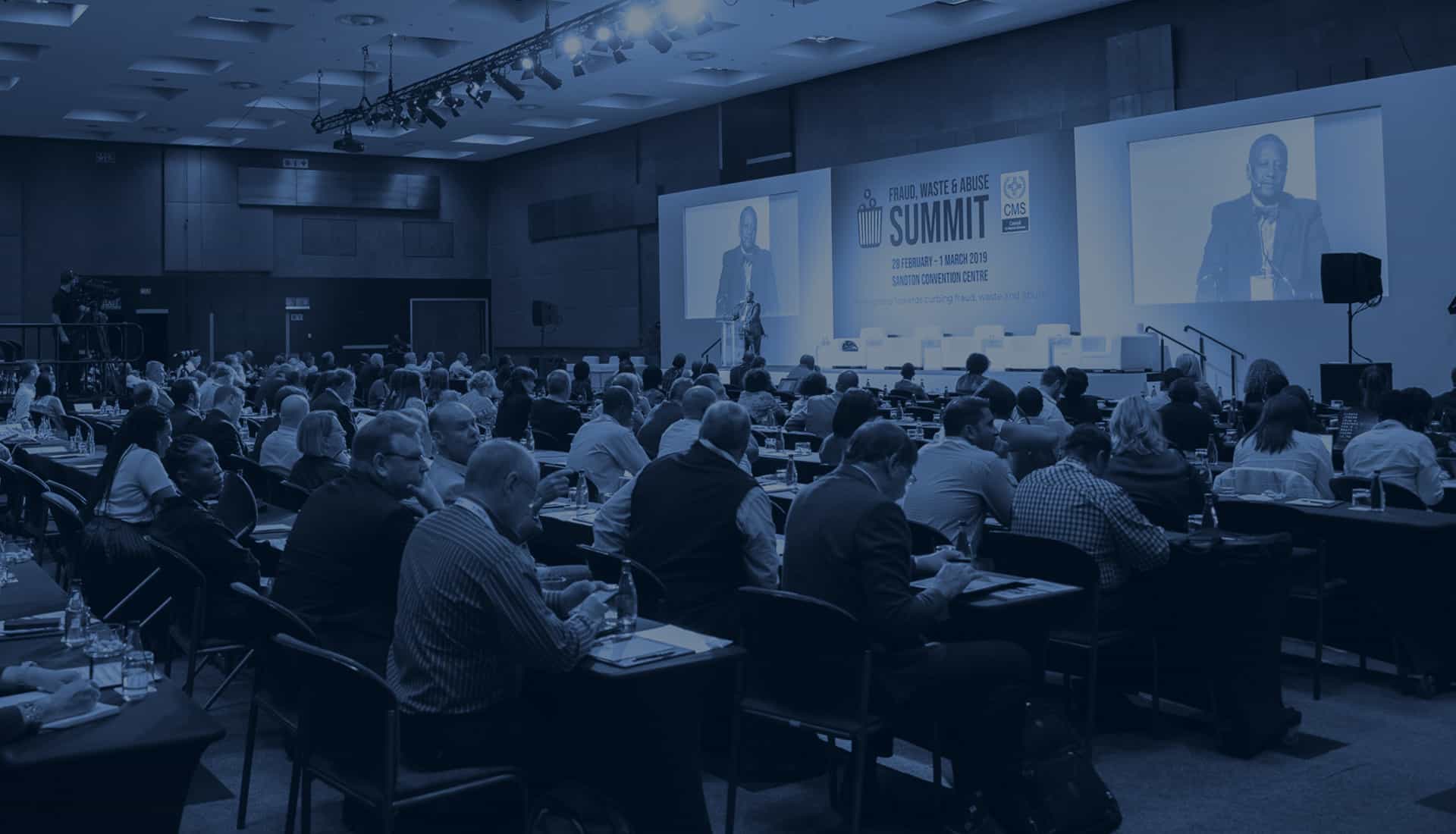 Fraud, Waste and Abuse Summit 2020
The 2nd annual Fraud, Waste and Abuse Summit will continue on the work of the inaugural summit, with the establishment of industry Codes of Good Practice when dealing with fraud, waste and abuse cases, in the interest of protecting medical scheme beneficiaries.
 The highlight of the summit will be the launch and handover of the Section 59 Investigation Report to the Honourable Minister of Health.
 The summit will feature discussions on:
Implications of the Section 59 findings for the medical schemes industry
Linking Section 59 outcomes with fraud, waste, and abuse in the industry
A recap of the Fraud, Waste and Abuse Charter and definitions
An introduction of Industry Codes of Good Practice and standards
 Why a Fraud, Waste and Abuse Summit?
The Council for Medical Schemes (CMS) is a statutory body that regulates medical schemes and related entities. In fulfilling part of its regulatory mandate, the CMS is looking at mechanisms to address the scourge of fraud, waste, and abuse in the medical schemes industry.
 This summit brings together stakeholders in the private healthcare sector including medical schemes, administrators, managed care organisations, policymakers, and other role players to discuss strategies for dealing with fraud, waste, and abuse towards a sustainable industry.
 As an entity mandated with the protection of the interests of members of medical schemes in terms of the Medical Schemes Act, No. 131 of 1998; the CMS is committed to working together with all industry role players to resolve the issue of fraud, waste, and abuse in the sector.
 What are the deliverables of the Fraud, Waste and Abuse summit?
To deal with fraud, waste, and abuse for industry sustainability by:
The signing of an industry agreement or charter where all stakeholders pledge to contribute to combating fraud, waste, and abuse, in line with set standards. During the inaugural summit in 2019, a Charter was signed by role players in the industry. Access the Charter here. The review period for the FWA charter is every two years.
Establishing standards for the industry to effectively deal with fraudulent activities. This includes fair sanctions for convicted fraudsters. The 2020 summit will focus on setting the scene for Codes of Good Practice for industry, for the benefit of the member.
The establishment of a structure to continuously deal with fraud, waste and abuse post the summit.
 Registration
 Please click here to register
 Queries
 For any queries you may have, please contact the Conference Manager, Miss Mnqeta.
Please note that no registrations may be made via the Conference Manager.
Conference Manager: Silindubuhle Mnqeta
Office number: 012 431 0437
Email address: fwasummit@medicalschemes.co.za
Was this post helpful?
Let us know if you liked the post and give us your opinion on how we can improve.