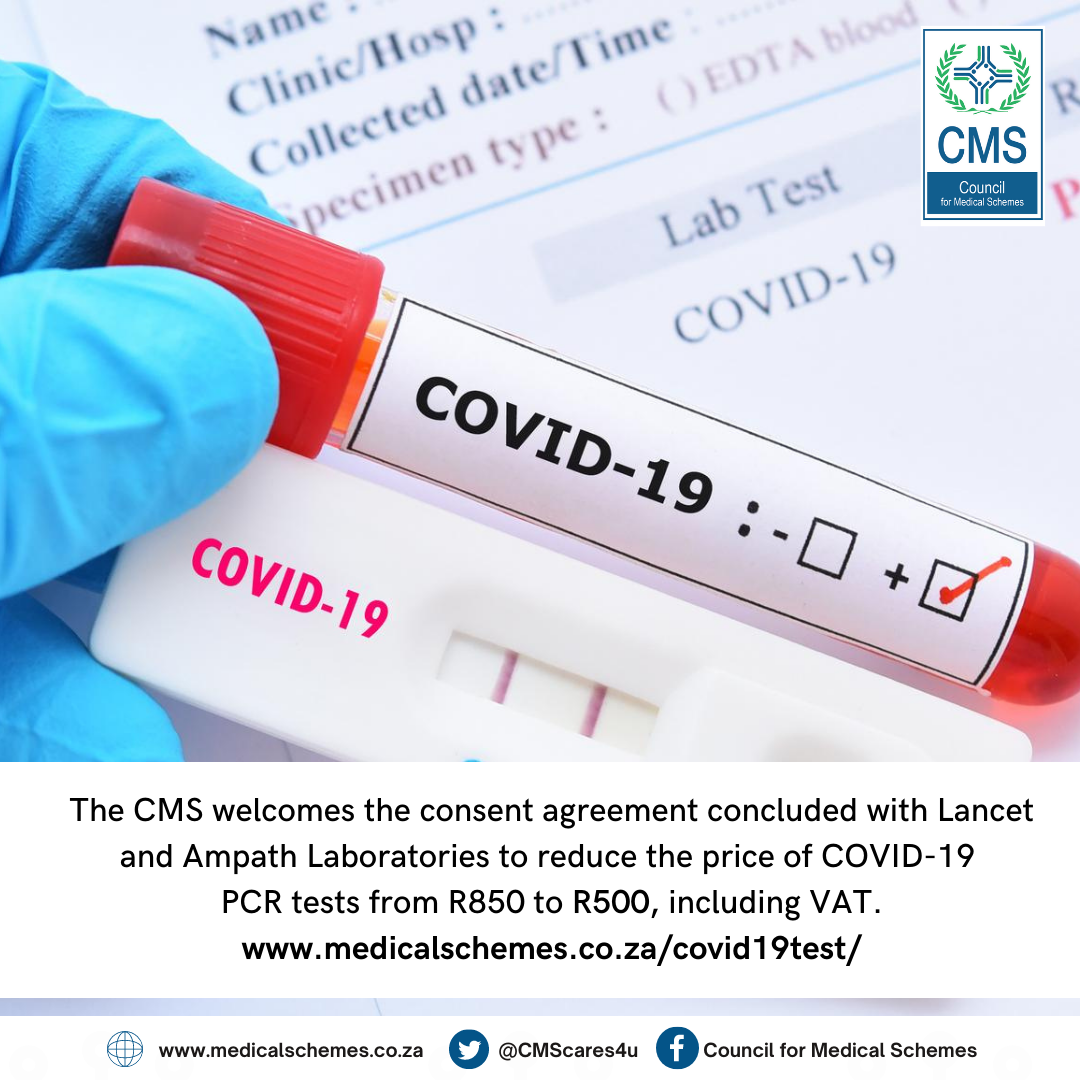 Press Release 13 of 2021: CMS welcomes reduced COVID-19 PCR test cost
The Council for Medical Schemes (CMS) delightfully welcomes the consent agreement concluded by the Competition Commission with Lancet and Ampath Laboratories to reduce the price of COVID-19 PCR tests from R850 to R500, including VAT, reflecting a 40% difference.
The agreement follows a complaint lodged by the CMS with the Competition Commission in October 2021, in terms of section 49B of the Competition Act. The CMS alleged that private laboratory prices for COVID-19-tests were exorbitant and unjustifiable at R850 per test. CMS' complaint is in line with its mandate and commitment to protecting the interests of the public, especially during the COVID-19 pandemic.
"Following our complaint, we were informed that the Commission's investigation revealed that prices had decreased across pathology suppliers, thus reducing Ampath and Lancet's costs by 30 – 35% on average between March 2020 and September 2021," said Dr Sipho Kabane, Chief Executive and Registrar of the CMS.
"CMS' Industry Report revealed that specialist services linked to the pathology discipline experienced an increase which amounted to R11.6 billion in 2020, representing a gain of 10.88% from R10.5 billion in 2019, despite a 3.81% overall decrease in the industry" added Dr Kabane.
The National Institute for Communicable Diseases (NICD) reports that over 20 million COVID-19 tests have been conducted as of 11 December 2021, with the private sector accounting for 54% of all tests[1].
The Commission, Lancet and Ampath concluded these consent agreements to cease to charge the price of R850 (incl. VAT) and reduce the cost of COVID-19 PCR tests to a price no more than R500 inclusive of VAT.  This agreement has now been confirmed by the Competition Tribunal and is now binding on both Ampath and Lancet and are only applicable to COVID-19 PCR test NOT COVID-19 anti-gen tests.
"We are delighted with this outcome, as it opens up citizens to more affordable testing, and we hope that this cost saving will enable medical schemes to enhance other areas of their basket of care, for the benefit of their members," concluded Dr Kabane.
Download the Press Release here.
/Ends/
Media enquiries
Ms Mmatsie Mpshane
Acting General Manager: Stakeholder Relations
071 371 5667 / 060 995 8002
[1] https://www.nicd.ac.za/latest-confirmed-cases-of-covid-19-in-south-africa-11-december-2021/
Was this post helpful?
Let us know if you liked the post and give us your opinion on how we can improve.