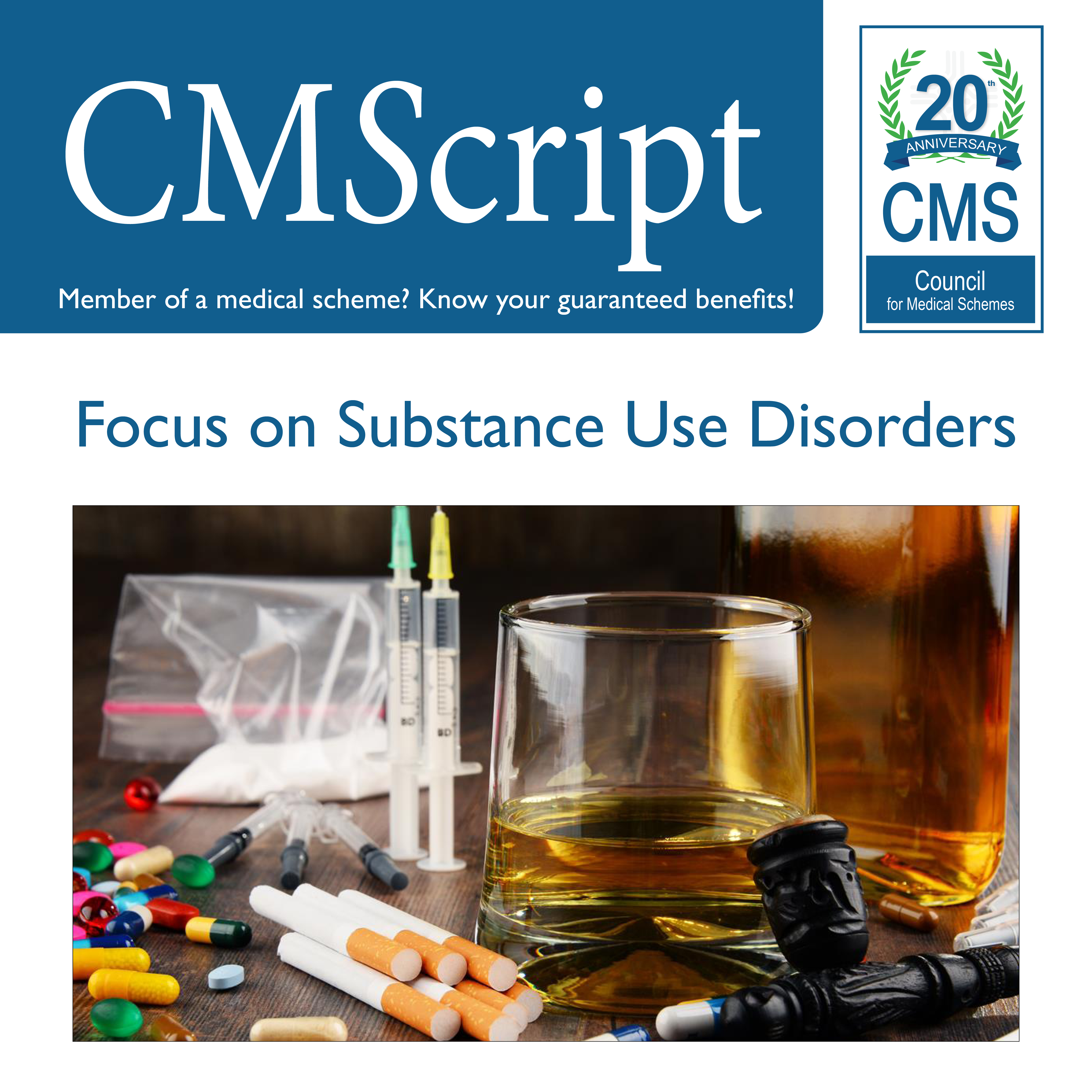 CMScript: Focus on Substance Use Disorders
How do medical schemes treat substance abuse and what is covered under PMB regulations?
The PMB regulations include substance abuse and the use of drugs under the following Diagnostic Treatment Pairs (DTP):
| | | |
| --- | --- | --- |
| DTP Code | DTP Description | Treatment |
| 182T | Abuse or dependence on Psychoactive substance, including alcohol | Hospital-based management up to 3 weeks/year |
| 910T | Acute delusional mood, anxiety, personality, perception disorders and organic mental disorder caused by drugs | Hospital-based management up to 3 days |
| 910T | Alcohol withdrawal delirium; alcohol intoxication delirium | Hospital-based management up to 3 days leading to rehabilitation |
| 910T | Delirium: Amphetamine, Cocaine, or other psychoactive substance | Hospital-based management up to 3 days |
The PMB include the diagnosis, treatment and care of the conditions whilst an individual is in hospital. In-hospital management may include medicines (e.g. withdrawal support), and consultations with other health professionals e.g. a psychologist.
Download the CMScript here.
The PMB regulations however do not include the out-patient treatment for substance abuse.
Although the condition is a PMB condition, it is important to remember that medical schemes can use designated service providers (DSPs). A designated service provider (DSP) is a healthcare provider (e.g. doctor, pharmacist, hospital) that is appointed by the medical scheme for the treatment or care of PMB conditions. An individual may use a non-DSP voluntarily but should be aware that when one chooses to use a non-DSP, one may have to pay a portion of the bill as a co-payment. This should be discussed and clarified with the Medical Scheme in writing, if possible, to avoid any misunderstandings.
Was this post helpful?
Let us know if you liked the post and give us your opinion on how we can improve.