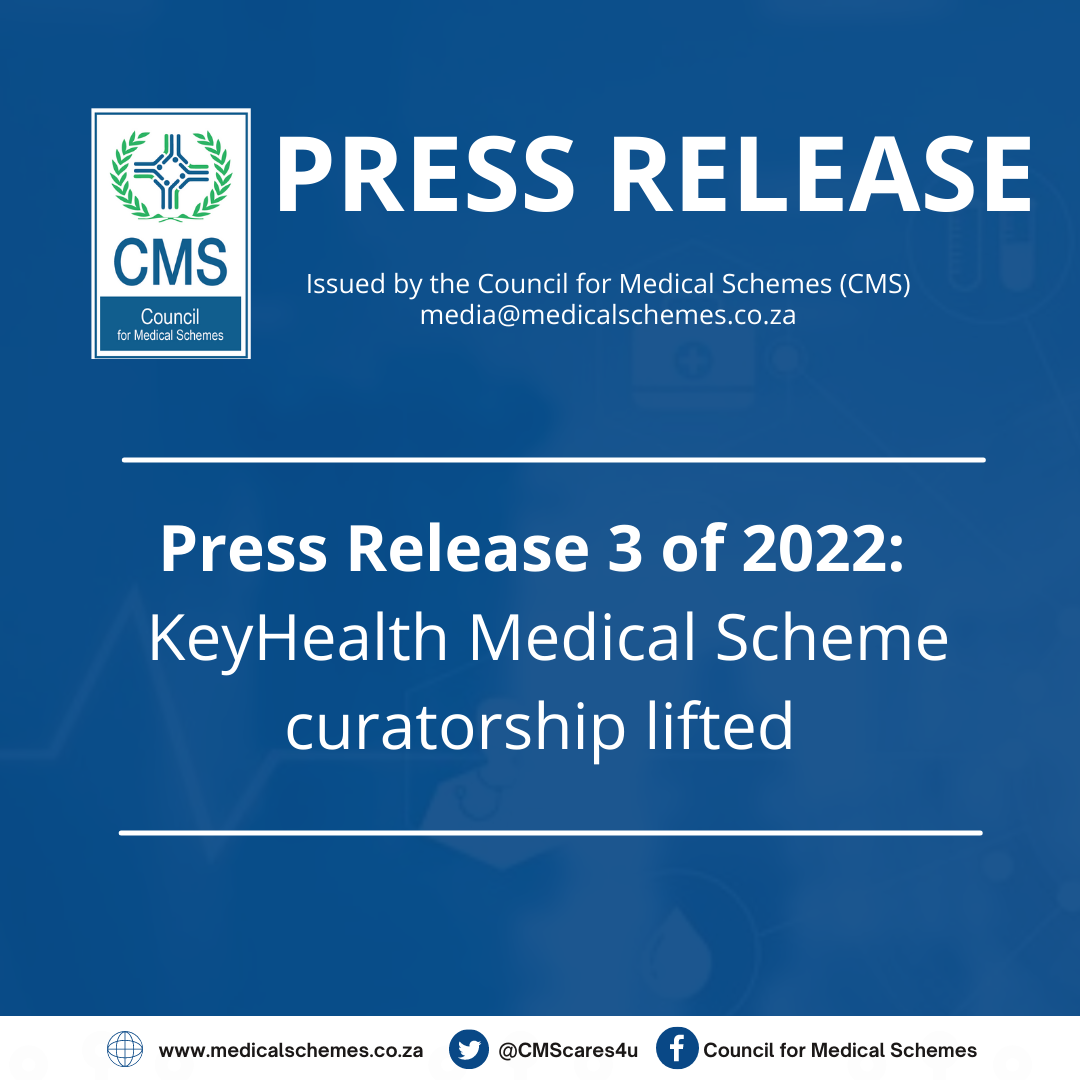 Press Release 3 of 2022: KeyHealth Medical Scheme curatorship lifted
The Council for Medical Schemes (CMS) hereby announces that the curatorship placed on KeyHealth Medical Scheme has been uplifted. Justice Collis agreed to lift the curatorship on KeyHealth Medical Scheme on 5 April 2022, in terms of section 5(9) of the Financial Institutions Protection of Funds Act 28 of 2001 (FIA).
"The application was brought as the Curator had successfully restored effective governance of the scheme, a new Board of Trustees (BoT) had been elected, with the assurance that members and beneficiaries would continue to be serviced and protected," said Dr Sipho Kabane, Chief Executive and Registrar at CMS.
The upliftment means that in terms of section 5(9) of FIA, Mr Johannes Seloane's role as Curator of KeyHealth Medical Scheme is cancelled with effect from 5 April 2022, and the BoT is authorised to take control and management of the affairs of the scheme. The scheme BoT comprises of:
Mr Arno Gouws
Mr Cornelius Johannes Coetzee
Mr Andre Donavan Young
Mr Guy Boardman
Ms Marinda Aletta Luff
Mr Jacobus Herkules Phillipus Breedt and;
Mr Derek Naidoo
The High Court in Pretoria previously placed KeyHealth under provisional curatorship on 16 September 2020, and final confirmation of the curatorship was granted on 25 March 2021.
The CMS will continue to exercise statutory oversight on the affairs of KeyHealth and ensure that members' interests are always protected.
Download the Press Release here.
/Ends/
Media enquiries
Ms Mmatsie Mpshane
Acting General Manager: Stakeholder Relations
media@medicalschemes.co.za / 071 371 5667
Was this post helpful?
Let us know if you liked the post and give us your opinion on how we can improve.